Preparing and Painting Aluminum Siding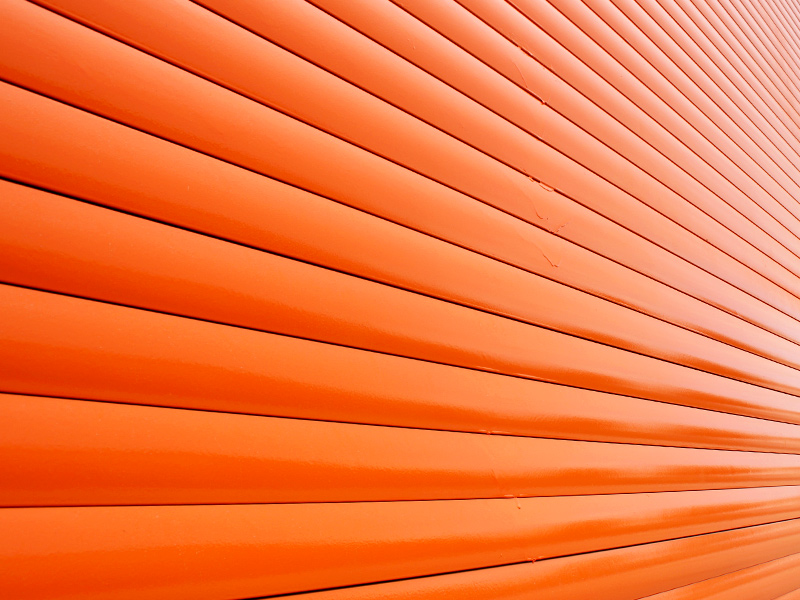 Preparing the Siding
Tools needed
Garden hose and/or pressure washer
Scrub brush
Non-metallic scour pad (synthetic steel wool)
Mold/Mildew remover
Household bleach
Non-film building cleaner (TSP substitute)
Rubber gloves
Bucket
Paint scraper(s)
Sandpaper or sanding pads
Two-part patching compound
Flexible Caulk
Primer
Drop cloth(s)
Preparation steps
If mold exists:

Wash surface with mold/mildew remover as per label instructions.
Rinse remover off surface using low-pressure washer or garden hose.

Wash and scrub siding with non film-building cleaner to remove any chalking and rinse. This may require more than one application. Use finger to test for chalking once surface is dry.
If pressure washing, always work from the top down to avoid damaging siding.
Scrape areas of house where loose paint exists.
Sand scraped areas to smooth edges.
Remove/replace any failing and/or old caulking.
Smooth dents with two-part patching compound as per label directions. Sand smooth when dry.
Prime over bare aluminum and any patched areas with an acrylic primer if chalking is minimal. If there is excessive chalking, prime with an alkyd/oil primer.
Note: Depending on the current color and new color, it may be recommended to prime the entire surface prior to painting.
Painting the siding
Tools Needed
Drop cloth(s)
Masking tape
Paint brushes
Cut-in bucket
Roller frames and covers
Paint trays and liners or 5gallon bucket and grid
Extension handles (for roller frame)
Ladders and/or scaffolding
Damp rags to "clean as you go"
If Spraying and Back-rolling
Airless sprayer
Masking paper or film
Spray shield
Spray hood
Goggles
Respirators or dust masks
Brushing and Rolling
Cover all areas needing to be protected from any paint that might drip.
Work in a top to bottom pattern, applying in accordance with label instructions. Maintain a wet edge for best results. Intermix (BOX) all cans of same color as you go to ensure uniformity of color.
Paint corner to corner, or to good breaks, to ensure color blends together consistently.
Apply a second coat for longest life and most durability.
Wipe up any paint spills or splashes immediately using a wet rag.
Note: If running short on paint, stop at a corner. Try to save some of the remaining paint in the original container to bring in for a perfect match.
Spraying and back rolling
Follow the manufacturer's directions for use of your particular model of sprayer. Miller Paint also rents power sprayers. A store associate will be happy to explain to you the proper use at the time of your rental pick up.
Spraying should be done in conjunction with back rolling when necessary. This will ensure that the paint is pushed down into the substrate and that any spray overlap areas will be evened out.
Remember to maintain a wet edge while spraying and back rolling.
Make sure there is always paint on the roller cover to ensure that paint is not removed from the substrate during the back rolling process. As with brushing, a top to bottom application is usually the best method.
Spray pattern should be uniform and applied 12"-18" away from surface.
Features of Miller Paint sheens
Flat – Offers a deep, rich look that helps minimize the visibility of surface imperfections by minimizing light refraction.
Velvet – Ideal for projects where a deep rich look is desired yet only a minimal amount of sheen is needed. It reduces dirt pick-up and provides some washability.
Satin – This finish will minimize dirt pick-up and is washable. Best on surfaces free of major imperfections as the higher sheen will tend to show imperfections more.
Semigloss – This high-sheen product is very durable, washable and is perfect for areas that are more susceptible to dirt, grease and moisture. Best on smooth siding, trim, and primed metal surfaces where a higher gloss sheen is desired.
Exterior Paint Selection
Kril®
Kril is our classic, 100% acrylic, high-build exterior paint. It has strong adhesion, good durability, and exceptional color retention. Kril is formulated to be mold and mildew resistant and is ideal for any commercial or residential building, including those with wood, concrete, stucco, or manufactured siding. Kril's ease of application makes it the perfect paint for anyone from the average homeowner to the experienced professional. Available in Semigloss, Satin, Velvet and Flat sheens.
Acri-Lite®
Acri-Lite has been the quality standard for exterior painting in the Northwest for more than 50 years. Made from the highest quality acrylic resin, Acri-Lite is our most popular and widely used exterior paint. 100% acrylic, superb adhesion, washability and coverage make it ideal for showcase buildings or any commercial or residential building where the highest level of quality is desired. Available in Semigloss, Satin, Velvet and Flat sheens.
Evolution®
Evolution is our most technologically advanced coating. Formulated with an advanced 100% pure acrylic co-polymer resin for prolonged adhesion, this high solids coating is like nothing else we make. Evolution can be used on properly prepared vertical wood, composite, metal, concrete, stucco, and block. Evolution can be applied heavier than standard exterior paints for better coverage in one application. Evolution saves labor, resources and is covered by our exclusive lifetime warranty. Available in Satin, Velvet and Flat sheens.
Interior/Exterior Paint Selection
Acrinamel®
Our top quality, multipurpose acrylic enamel ideal for exterior/interior projects. Acrinamel provides an exceptionally durable finish for exterior and interior surfaces that require a moisture resistant, washable coating. Ideal for exterior metal and fine wood, as well as interior wood, masonry, and metal surfaces. Its durable, moisture-resistant film provides the performance of an enamel finish with the benefits of a water clean up and low odor. Available in Satin and Semigloss sheens.
Exterior Primer Selection
Acrimetal DTM - 310-2-10
Our premium interior/exterior water-based rust-inhibitive acrylic coating is formulated for adhesion to bare metal. Acrimetal can be utilized as a primer or as a primer/finish coat. It is a versatile replacement for conventional solvent-based primer/finish coatings.
Stain Blocking Primer - 470-0-11
Our premium interior/exterior stain-blocking primer is designed to seal and block most bleeding types of stains such as tannin, water or smoke damage. This primer has excellent adhesion to most surfaces and may be used on wood, metal, plaster and manufactured siding. It will not flash rust on metal surfaces. A minimum 24 hours curing time and two coats is recommended for severe bleeding.