Preparing and Painting Existing Interior Trim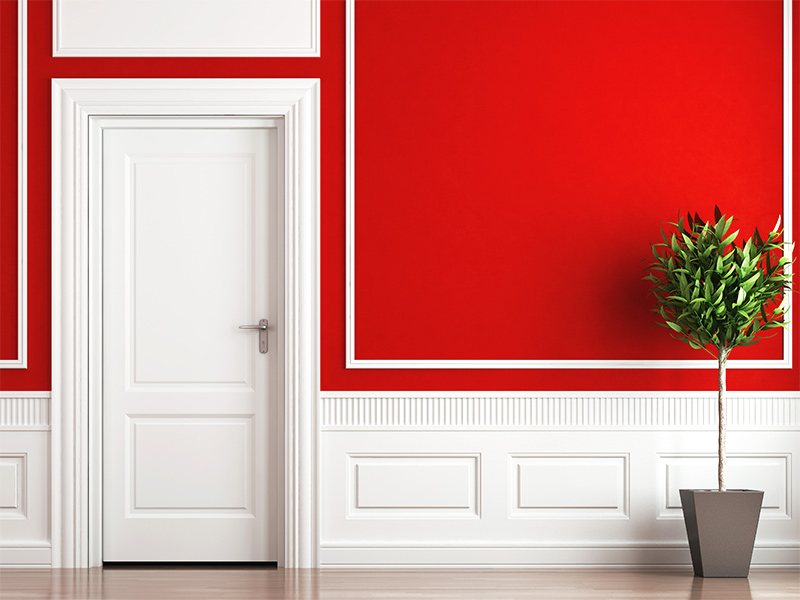 Preparing Existing Woodwork
Tools needed
Sponge
Liquid etching product
Rubber gloves
Bucket
Wood putty (paintable)
Putty knife
Sand paper or pads
Microfiber tack cloth or a clean dry sponge
Primer
Heat gun or liquid paint remover
Drop cloth(s)
Dust mask
Lead pamphlet
If the existing coating is in sound shape it should be sanded with a medium grade sandpaper or cleaned and etched with a liquid etching product in order to ensure the new coating adheres properly.
If your home was built prior to 1978, please consult the Lead Pamphlet for potentially important safety information.
Preparation Steps
Sand the surface with sandpaper or by using a liquid etching product to create a "profile" for the new coating to adhere to.
Fill any chips, gouges or nail holes with an interior wood spackle or putty.
Sand repaired areas flush with the surface using a fine grade sandpaper.
Wipe sanded surface with a tack cloth to remove dust. Use a pointed stick to get into corners where dust may be trapped.
Prime over any bare wood or repaired areas.
Note: If the existing coating is in bad condition, such as cracking and flaking off the surface, you may want to consider stripping back to bare wood.
Painting Existing Woodwork
Tools needed
Drop cloth(s)
Masking tape
Paint brush
Fine finish roller frame and cover
Paint tray
Paint tray liner
Cut-in bucket
Once the surface preparation is complete, and you have your desired paint in the color and finish you should:
Mask surfaces surrounding the project area.
Cover floor with drop cloths.
Sand primed areas with a fine grade sandpaper to ensure a level topcoat.
Use a tack cloth to remove dust.
Apply paint using desired tool.
Windows - Start at the edges closest to the window and work outward.
Doors - Work in square sections using a brush and/or roller.
Trim and other woodwork - Work in small, manageable sections for best results.
It is imperative in all applications to maintain a "wet edge" at all times. This requires you to work quickly from an unpainted area into the section you just painted. Maintaining a "wet edge" helps to provide the best results.
Note: If running short on paint, stop at a corner. Try to save some of the remaining paint in the original container to bring in for a perfect match.