Working and Painting with Low Hide Colors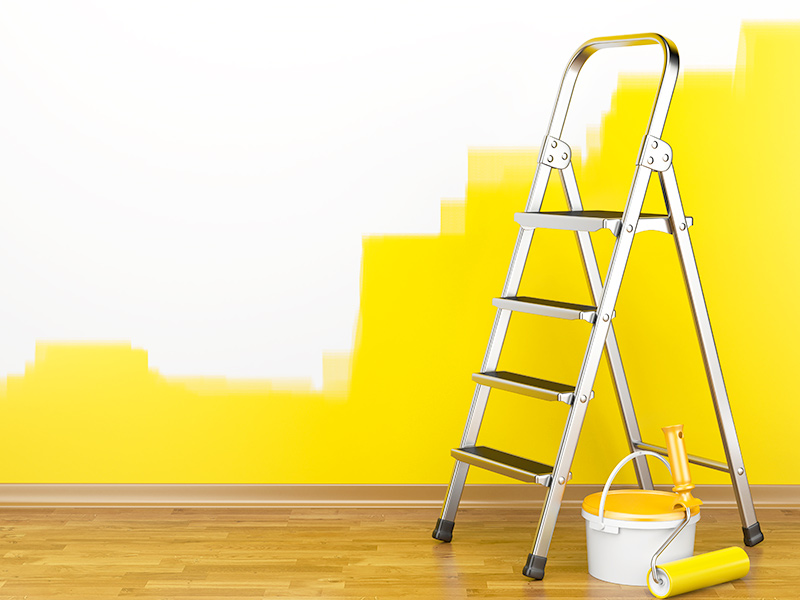 Preparing Wallboard
Tools needed
Sponge
Non-film building cleaner (TSP no-rinse substitute)
Rubber gloves
Bucket
Spackle
Putty knife
Sand paper or pads
Microfiber tack cloth or a clean dry sponge
Primer
Spray texture
Drop cloth(s)
#00 Synthetic steel wool (for degreasing walls)
Preparation Steps:
Clean all surfaces with a non-film building cleaner. Degloss glossy surfaces by lightly sanding or etching, and degrease any greasy walls in the kitchen.
Repair any nail holes with spackle

Scuff sand patched areas using 150 grit sandpaper or sanding pad.
Wipe off wall with a microfiber tack cloth or a clean dry sponge.

Re-texture any areas repaired.
Spot prime any areas that were spackled or textured.
Note: If a dark color exists and the desired color is a lighter color, a primer or multiple coats of desired color may be necessary.
If painting a dark color over a light color, a "gray scale" primer may be recommended to aid in coverage. A Sales Associate can assist you in creating the right gray coat for your project.
Painting Wallboard
Tools needed
Drop cloth(s)
Masking tape
Paint brush
Roller frame
Roller cover (Nap size dependant on wall texture and finish of paint - see below)
Paint tray
Paint tray liner
Extension handle for roller frame
Ladder (for high areas of room)
Cut-in bucket
Once the surface preparation is complete, and you have your desired paint in the color and finish, you should:
Mask windows, door, floor and ceiling molding.
Cut-in with a paint brush or pad (2-3 feet at a time, maintaining a "wet edge" at all times).
Roll on your paint using the "W" technique to achieve optimum coverage and uniformity as shown below.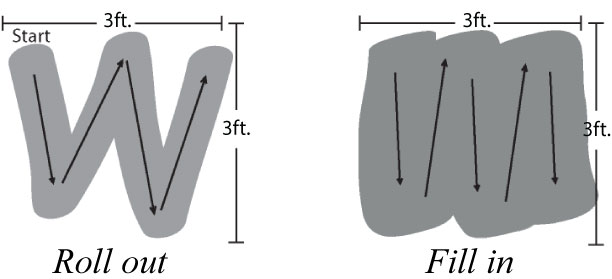 Roller Cover Recommendations:
Flat, Eggshell and Satin
For Light Orange Peel texture: 3/8"-1/2" nap.
For Medium Orange Peel texture: 1/2"-3/4" nap.
For Heavy Orange Peel texture: 3/4"-1" nap.
Semigloss or Enamels
Follow above recommendations based on wall texture in either a Drylon, Lambswool or Mohair roller cover or see a Sales Associate for assistance.
Sheen Selection Guide
Living Room and Common Areas:
Flat finish
Matte finish
Eggshell finish
Satin finish
Bedrooms:
Matte finish
Eggshell finish
Satin Finish
Kitchen and Bathrooms:
Satin finish
Semigloss finish
Features of Miller Paint Sheens:
Flat – Offers a deep, rich look that helps minimize the visibility of surface imperfections by minimizing light refraction.
Matte – The deep, rich look of a flat with greater durability, washability and burnish resistance with repeated washings.
Eggshell – Ideal for projects where a deep rich look is desired yet only a minimal amount of sheen is needed.
Satin – Perfect for any room with an average amount of use where some sheen and washability is desired. Satin offers good durability, scrubability and resists dirt pick up.
Semigloss – This high-sheen product is very durable, washable and is perfect for areas that are more susceptible to dirt, grease and moisture. Semigloss is ideal for high-traffic areas or the most used rooms in the home such as the kitchen or bathroom.
Interior Paint Selection
Evolution®
Evolution's creamy consistency has been formulated to provide a thicker coat than typical wall paints and can often provide one-coat coverage, helping you to achieve your masterpiece with less effort. Use it in your home, office, or anywhere you want the rich color of the ColorEvolution collection to come through. Feel the luxurious craftsmanship in the rich, thick textures as you spread the art of paint on the canvas of your walls.
Acro Pure
Using an advanced Ultra-Low VOC resin formulated specifically for Miller Paint, Acro Pure creates a lasting finish that will stand up to the rigors of daily life. Acro Pure can be used anywhere a standard wall paint can be used and is a great choice in homes, commercial and industrial spaces, and healthcare environments.
Premium
Our classic, high quality acrylic paint has been tested and is trusted by the people of the Northwest. It has become the paint of choice for everyday projects by homeowners and professionals alike. Premium is specially formulated to provide rich, lasting color and performs well in today's popular deep-toned colors. Available in four sheens, it is perfect for any wall surface in your home or office.
Performance Plus
Designed for the professional and the homeowner alike, the Performance Plus line of products provides a consistent, reliable quality finish. The modified PVA resin has been proven to provide good coverage and value. Performance Plus interior finish is an good product for use on new wallboard, smooth or textured, in living rooms, bedrooms, hallways and ceilings.
Low Hide Colors
Low Hide Explained:
Have you ever wondered why that red accent wall or dark blue color just doesn't quite cover in one or two coats?
Many of the colorants used to make dark reds, oranges, yellows or even blues and greens contain translucent pigments. Light will reflect right through these coatings to the primer underneath and the coating will not appear uniform until enough topcoats are applied to match this reflectance.
The Fix:
Miller Paint has a series of gray primers that are designed to match the reflectance value of the topcoat. What this means is that you can achieve a more uniform appearance and the correct color in two finish coats as opposed to three or four coats.
Ask your Sales Associate if your next project could benefit from using a gray primer. While it may seem like an extra step, it may actually save you two or three coats in the end.
When Using Low Hide Colors:
Two light coats are better than one heavy coat. It is best not to try to make your first coat cover by putting extra paint on.
The bigger the color change between the original wall color and the new color, the bigger the difference using a primer, or gray primer, will make in saving you work.
Dry time needed between coats and before the walls can be put back into service can be increased with darker colors. This is especially true if the paint is applied too heavily.